Strawberry Fields Gates Vandalized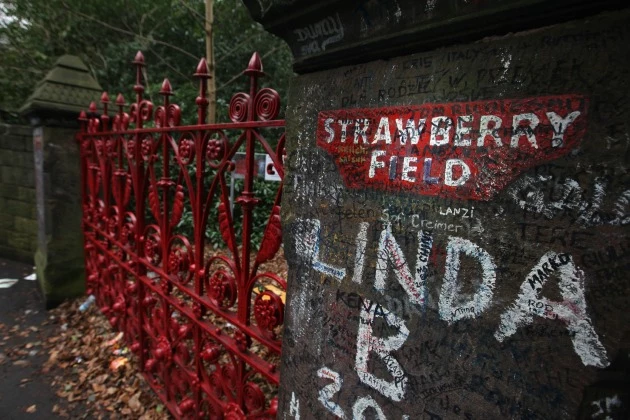 Strawberry Fields may be forever, but a mystery vandal apparently believes that the paint on the park's distinctive red gates should be far less permanent.
The Liverpool Echo reports that the top half of one gate was recently painted yellow, with the message "There is always a field for imagination. John you know you should be glad" scrawled on the adjacent wall. According to local police, the incident was discovered by a tour guide who was making the midday rounds. Given that the pain was still wet when it was found, authorities seem to be searching for a fairly brazen perp.
But things aren't quite as serious as they might seem. According to the Salvation Army, which owns the site immortalized in the 1967 Beatles song, the gates in question are actually replicas of the originals, which were removed in 2011 and placed in secure storage.
"The originals are over 100 years old, and the replicas were made to be identical replacements for visitors and tourists," the organization said. "It's saddening to have our worries about the gates confirmed, but we are thankful that the original gates remain safe. Going forward, we will look at how we can restore the replica gates back to their normal condition, as well as assist the police in any investigations. We would urge anybody with any information about this to come forward as soon as possible."
Source:
Strawberry Fields Gates Vandalized