See the Cast of 'Whose Line Is It Anyway?' Then and Now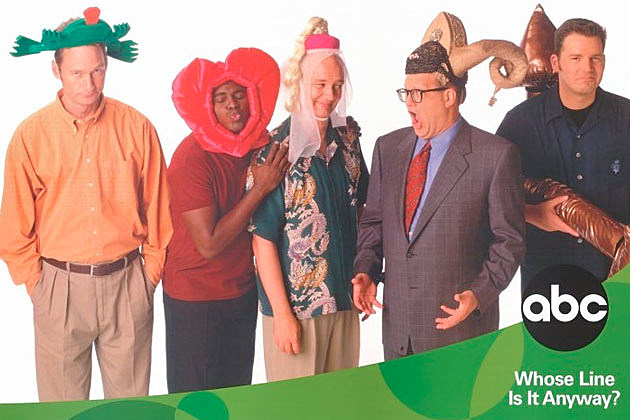 One part comedy show, one part game show, 'Whose Line Is It Anyway' brought the whimsy and energy of improvisational comedy clubs into homes across America. Sure, the points didn't matter, and there were no actual prizes handed out. Nonetheless, it was riveting television with whip-smart comedians spinning wild narratives and creating kooky characters off the top of their heads!
Following ten years on British television, the short-form improv game show crossed the pond to the U.S. in 1998. With a new host and some of its former stars it became a welcomed hit, and went on to run for eight seasons.
The American version of the show attracted such big guest stars as David Hasselhoff, Whoopi Goldberg, and Robin Williams. (It also gave early exposure to future stars like Stephen Colbert.) But for this look back, we have focused on the show's recurring stars who delivered hysterical performances week after week.
ABC/Valerie Macon, Getty
Then: Carey was the creator and star of the Cleveland-set sitcom 'The Drew Carey Show.' An admirer of the English series, Carey was instrumental in its move overseas. He served not only as its executive producer, but also its host, following in the footsteps of Clive Anderson.
Now: 'Whose Line' ended up outlasting 'The Drew Carey Show,' which was cancelled in 2004. 'Whose Line' followed two years later, then in 2007 Carey took to hosting a real game show, taking over for Bob Barker on the price-guessing game 'The Price Is Right.' In 2011, a slimmed down Carey called much of the 'Whose Line' gang back together for the short-lived comedy series 'Drew Carey's Improv-A-Ganza.'
ABC/Image Entertainment
Then: When he joined Carey's American spin-off, Mochrie was already an established improv star, having appeared in over 70 episodes of the British version of 'Whose Line.' He went on to appear in every episode of the American version, and also earned a recurring role on 'The Drew Carey Show' as Eugene.
Now: Mochrie has become a regular presence on Canadian television. He was the central star of the short-lived 2006 sitcom 'Getting Along Famously' and was a cast regular on 'She's The Mayor' and 'Almost Heroes.' Most recently he snagged a bit part in the crime-centered rom-com 'Please Kill Mr. Know It All,' which opens in the U.S. this Valentine's Day.
Buzzfeed/CBS
Then: Stiles had been earning one-off roles on American television since 1985, but was better known in the U.K. as a recurring performer on the original 'Whose Line.' In 1995, he finally broke through in the U.S. as a series regular on 'The Drew Carey Show,' playing educated underachiever Lewis Kiniski. Stiles, Carey and Mochrie are the only comedians credited as appearing in every episode of America's 'Whose Line.'
Now: Once 'The Drew Carey Show' drew to a close, Stiles scored a recurring role on the wildly popular sitcom 'Two and a Half Men' as Dr. Herb Melnick, which is ongoing. Stiles reunited with Carey in 2011 for 'Drew Carey's Improv-A-Ganza.'
ABC/LauraHall.com
Then: Singer-songwriter Hall first got into scoring improv comedy live in Chicago, where she worked as a pianist for various improvisation crews, including Second City. Hall got involved with 'Whose Line' during the British version's 10th season, and went on to provide musical accompaniment via piano and keyboards for the entirety of the American series.
Now: Hall continues to work as a musician and composer. In 2012, she spun her improv musical experience into 'Improv Karaoke,' a two-disc CD full of different styles of instrumental music designed for improv comedy use. She also teaches music improv workshops. Learn more about it at her site.
ABC/Kevin Winter, Getty
Then: Brady had appeared in several episodes of the original 'Whose Line,' before being cast as a regular on its American counterpart. Through his charismatic and song-stuffed performances, he became the show's breakout star and earned his own talk show, 'The Wayne Brady Show,' in 2002.
Now: 'The Wayne Brady' show was cancelled in 2004. But after 'Whose Line' wrapped in 2006, Brady scored hosting gigs on game shows like 'Don't Forget the Lyrics!' and 'Let's Make a Deal.' He later reunited with the 'Whose Line' cast in 2011 for 'Drew Carey's Improv-A-Ganza,' and became a memorable recurring performer on the popular sitcom 'How I Met Your Mother,' playing the debonair gay brother of Neil Patrick Harris' unscrupulous ladies man Barney Stinson.
Buzzfeed/David Livingston, Getty
Then: Also a member of the original 'Whose Line' ensemble, Proops co-starred on the British comedy quiz-show 'Space Cadets' before the American 'Whose Line' kicked off. Stateside he had earned one-off roles in such sitcoms as 'Family Matters, and '3rd Rock From the Sun.'
Now: During the run of Carey's 'Whose Line,' Proops became the voice of the plucky animated handyman 'Bob The Builder.' He continues to reprise this role, and later this year his voice will be heard in the animated comedy that's decidedly not for kids 'Hell & Back.' Aside from being a part of 'Drew Carey's Improv-A-Ganza,' Proops has scored recurring appearances on the late-night talk show 'Chelsea Lately,' and the comedy series 'Easy to Assemble.' He also hosts the podcast, er, "Proopcast," 'The Smartest Man in the World.'
ABC/Image Entertainment
Then: The Chicago-born comedian made his television debut in 1991 as part of the improv comedy special 'Life As We Know It,' which featured the best of Second City improv clubs. From there he landed work on the U.K.'s 'Whose Line.'
Now: Sherwood reteamed with the 'Whose Line' crew in 'Drew Carey's Improv-A-Ganza,' and created a sketch comedy special with Colin Mochrie called 'Colin & Brad: Two Man Group.' (The duo are currently on tour.) He has also contributed voicework to the cartoon 'Digimon Data Squad.'
ABC/IMDB
Then: As a character actress, Greenwood made appearances on shows like the Canadian drama series 'Street Legal,' the sitcom 'Maniac Mansion' and the creepy kids' show 'Goosebumps' before she landed her best-known role as the sweet-hearted Grace Bailey on 'Wind at My Back' in 1996. She balanced work on this Canadian TV-drama with America's 'Whose Line' until the former wrapped in 2001.
Now: Greenwood balances bit parts in film and television with live shows like 'Women Fully Clothed,' a sketch comedy special that played to rave reviews in Vegas last spring.
ABC/Toby Canham, Getty
Then: Another castmate of the original 'Whose Line,' Esten earned one-off roles on such popular shows as 'Cheers,' 'Star Trek: The Next Generation' and 'Murphy Brown,' before the American 'Whose Line,' came calling.
Now: Esten has gone on to score recurring roles in a string of popular TV shows, from comedies like 'The Office' and 'Wilfred' to dramas like 'ER' and 'Big Love.' He is currently playing troubled-yet-hunky country musician Deacon Claybourne on the ABC drama 'Nashville.'
Buzzfeed/Toby Canham, Getty
Then: Kinney had been working in television as a character actress for seven years before she was cast in what's become her best-known role, Mimi the make-up caked antagonist on 'The Drew Carey Show.' She later joined co-stars Drew Carey and Ryan Stiles for several episodes of America's 'Whose Line.'
Now: Following the cancellation of both 'The Drew Carey Show' and 'Whose Line,' Kinney reunited with Carey first on 'The Price is Right,' where she reprised the role of Mimi for two episodes, and then on 'Drew Carey's Improv-A-Ganza.' Most recently she's played a recurring role on the teen-centered drama series 'The Secret Life of the American Teenager.'
Source:
See the Cast of 'Whose Line Is It Anyway?' Then and Now