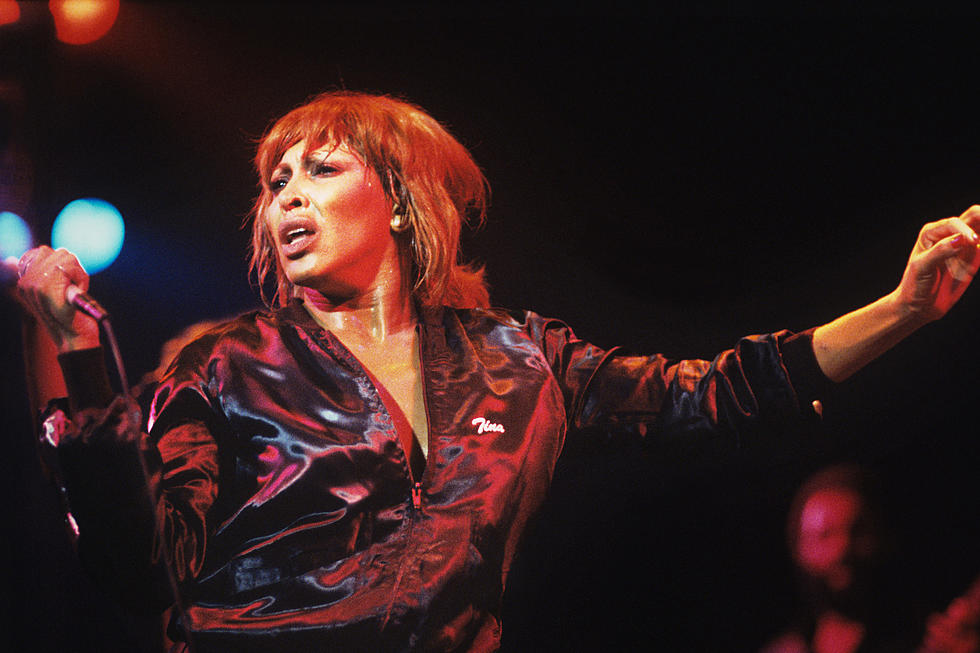 Rockers Pay Tribute to 'Queen of Rock 'n' Roll' Tina Turner
Gijsbert Hanekroot , Redferns / Getty Images
Rockers have taken to social media to pay tribute to the late "Queen of Rock 'n' Roll," Tina Turner, who died today (May 24) at the age of 83.
Turner was born Anna Mae Bullock in Brownsville, Tennessee in 1939 and started her career as a musician when she began singing with Ike Turner's band Kings of Rhythm. She made her mainstream debut as Tina Turner in 1960 with Ike Turner, with the song "A Fool in Love." The next year, the pair released "It's Gonna Work Out Fine," which earned them a Grammy nomination for Best Rock and Roll Performance.
A few years later, Ike and Tina Turner put out the incredibly well-known version of "River Deep - Mountain High," which resulted in an invitation to open for The Rolling Stones on their 1966 tour of the U.K., and again in '69 when they toured the U.S. The duo then began covering a plethora of popular rock songs, including ones by The Stones, in addition to The Beatles and Creedence Clearwater Revival. In 1975, Turner appeared as the "Acid Queen" in The Who's rock opera Tommy. 
Turner released a total of nine studio albums as a solo artist between 1974 and 1999, collaborated with several rock artists (David Bowie, Bryan Adams and more) and received a total of 12 Grammy awards throughout her career. She was the first black woman to appear on the cover of Rolling Stone in 1967, and was one of the first black musicians to appear on MTV when it launched in the early '80s.
READ MORE: The Huge Whitesnake Hit That Was Originally Written for Tina Turner to Use
Turner's influence on the rock 'n' roll genre was profound, and thus, fellow rockers have taken to the internet to pay their respects to the "Queen of Rock 'n' Roll," including members of The Rolling Stones, Black Sabbath's Geezer Butler, Disturbed's David Draiman, Smashing Pumpkins' Billy Corgan and more. See the tribute posts below.
Mick Jagger
Ronnie Wood
Geezer Butler
David Draiman
Billy Corgan
Joe Bonamassa
Riot Fest
Shinedown
Garbage
William DuVall (Alice in Chains)
Chuck D
Chris Holmes (W.A.S.P.)
Bryan Adams
Brad Wilk (Rage Against the Machine)
Nonpoint
Orianthi
Jeff Scott Soto
Eddie Trunk
James Durbin
Monsters of Rock
Richard Shaw (Cradle of Filth)
Ann Wilson (Heart) - "Miss Tina lived an amazing life, full of drama and pain and in later years anchored by Buddhism. She showed what courage was and danced through her life on those mighty legs as an inspiration to us all. Rock on Angel!!"
Dean Roland (Collective Soul) - "We had the privilege of sharing the stage with Tina in Australia. The woman changed the world for good. Her presence is eternal."
John Fogerty
Alex Skolnick (Testament)
Ringo Starr (Beatles)
John Densmore (The Doors)
Stevie Van Zandt (E Street Band)
28 Women Who Pioneered Hard Rock + Heavy Metal
These women pioneered hard rock and heavy metal.